Rokubey Kiyomizu VIII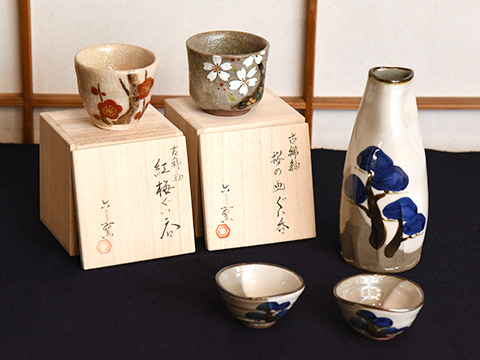 As the first-born of the seventh-generation family head, he was born in Kyoto in 1954. Before assuming the name, he was known as Masahiro. After graduating from the Department of Architecture in the Faculty of Science and Engineering of Waseda University in 1979, he studied windlass and glaze-related techniques at the Kyoto Prefectural Pottery Higher Vocational Training School and the Kyoto City Industrial Experimental Center, and then formally entered the field of ceramics.
In 1983, he was awarded the Grand Prix at the '83 Asashi Ceramic Exhibition.Since then, he won numerous awards in various publiclysponsored exhibitions(公募展) from the 1980s to the 1990s. He continuously improved his skills in ceramic design and performance, and continued to receive widespread attention.
His production method consists of cutting clay board precisely along with the drawing and combining the sliced parts. Slits added in the body manipulate strength or allow gravity to function, thereby deliberately creating distortion and slumps in the artistic form through the firing process.
In 2000, after assuming the hereditary name as the Rokubey Kiyomizu VIII , he started to produce innovative artistic ceramic works with distinct shapes and flavors.
In 2003, he was invited to become a professor at Kyoto University of Art and Design (renamed as Kyoto University of the Arts in 2020). While actively engaging in creative works, he also diligently worked at mentoring younger artists.
In 2005, he won the 2004 Japan Ceramic Association Award. Today he is one of the representative figures in contemporary Japanese ceramic art.